When buying a new English saddle, no doubt you've made an investment you will want to enjoy for a lifetime.
New saddles are beautiful to the eye, but sometimes require a little 'bedding in' or 'breaking in' before they feel like your comfy customized old slipper.
Leather, flocking and other components, when fresh from the saddle makers, are often a little too perfect. We want a saddle to be more supple to the touch. We need to condition the leather, settle the flocking, put some warmth into its bones to enable it to mold around our horse's shape as well as our own. That's when the dream ride fun really begins.
Be sure to follow our easy steps below to ensure you partner with your saddle soonest and completely.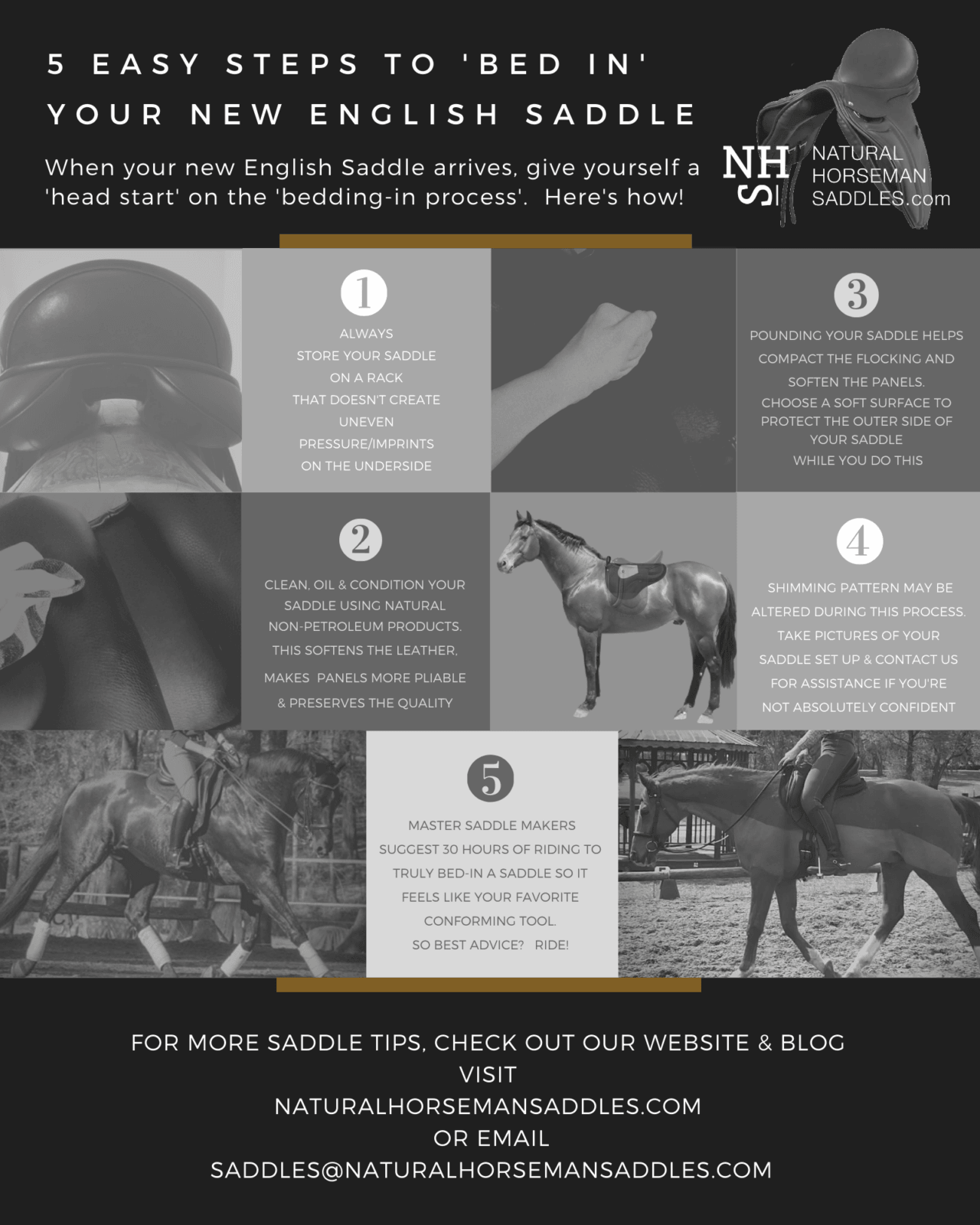 1 :
ALWAYS STORE YOUR SADDLE ON A RACK THAT DOESN'T CREATE UNEVEN PRESSURE/IMPRINTS ON THE UNDERSIDE.
2 :
CLEAN, OIL & CONDITION YOUR SADDLE USING NATURAL NON-PETROLEUM PRODUCTS. THIS SOFTENS THE LEATHER, MAKES  PANELS MORE PLIABLE & PRESERVES THE QUALITY.
3 :
POUNDING AND MASSAGING YOUR UNDERSIDE SADDLE PANELS HELPS COMPACT THE FLOCKING AND SOFTEN THEM. CHOOSE A SOFT SURFACE TO PROTECT THE OUTER SIDE OF YOUR SADDLE WHILE YOU DO THIS.
4 :
SHIMMING PATTERN MAY BE ALTERED DURING THIS PROCESS. TAKE PICTURES OF YOUR SADDLE SET UP & CONTACT US FOR HELP IF YOU'RE NOT CONFIDENT
5 :
MASTER SADDLE MAKERS SUGGEST 30 HOURS OF RIDING TO TRULY BED-IN A SADDLE SO IT FEELS LIKE YOUR FAVORITE CONFORMING TOOL.
SO BEST ADVICE?   RIDE!
At Natural Horseman Saddles the aim is to help you enjoy and reap the benefits of your new saddle. If you have questions be sure to email us and we would love to talk more.
If you are looking for a quality English saddle, made by the finest English Saddle Makers – be sure to view our website www.naturalhorsemansaddles.com