We found the perfect name!
You guys were SO creative!
We asked for people to submit their name suggestions for this amazing new pad, featured in our VERSAFIT SADDLE PAD line.  The winner was eligible for a $100 USD Gift Card for the winning submission.
With so many key features and benefits, this pad certainly got some cleverly descriptive name suggestions.
Built to the quality standards our customers have grown to rely upon, this latest instalment has a unique difference you will LOVE.
The winner was of course PROFILE SMARTPAD® –
Suggested by Julie Jagielowicz
CONGRATULATIONS! That $100 Gift Card is all yours!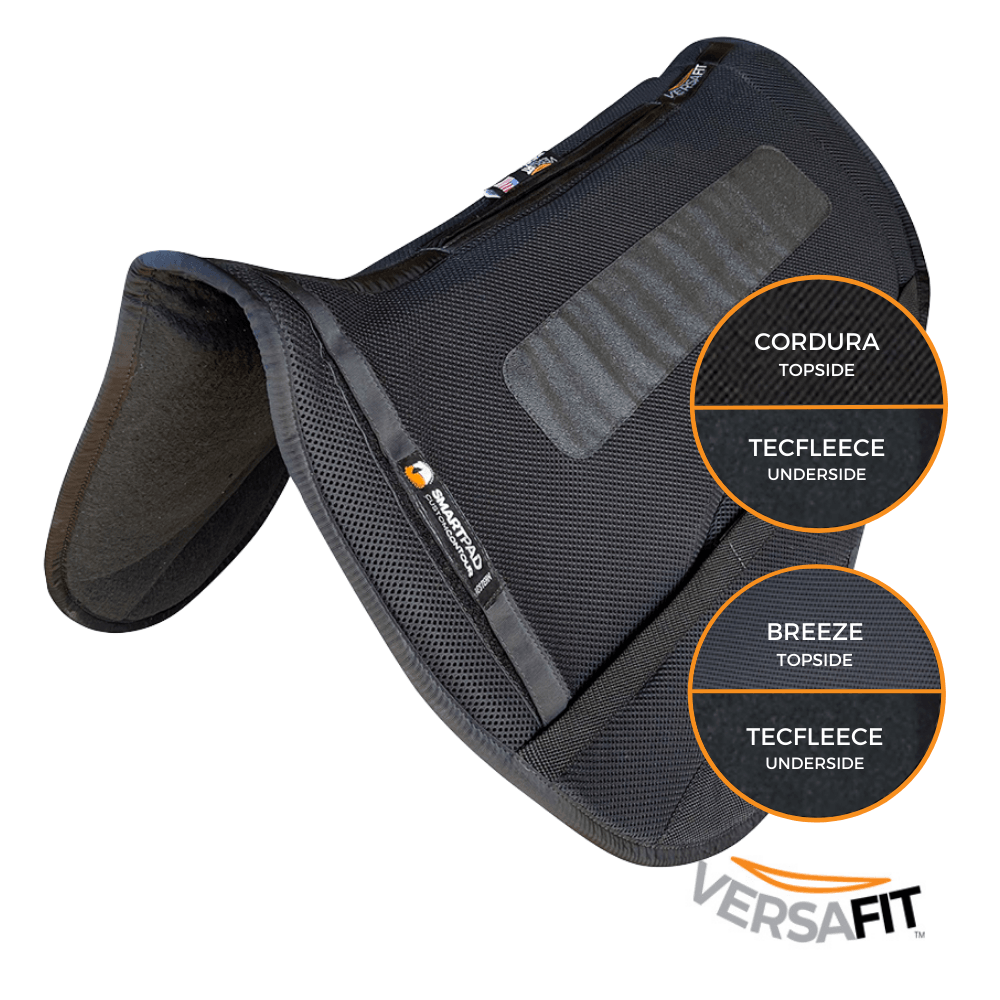 Our SMARTPADS have made their way into barns as the 'go to' saddle pad for ease of use, and all importantly, their horses comfort.  Used in conjunction with our VERSAFIT TAPERED FOAM SHIMS,  all our VERSAFIT SADDLE PADS can customize and improve the fit of not only the saddles we design but most out there in the market.
The PROFILE SMARTPAD® was designed to fit under small profile WESTERN saddles and comes with easy-access pockets to house your SHIMS for successful MANAGEMENT OF THE INTERFACE (or customizing for your horse).
Perfect for under our SMARTFLX™ saddle trees, yet also amazing under any make of western or endurance saddles.
You get the benefit of 100% breathable, orthopedic, anti-slip, anti-bacterial, anti-fungal, easily to clean materials and comes with 'match anything' black.
Plus, the deflecting SMART FOAM armour inside has a compression factor that allows it to conform/compress to less ¼ of its original thickness, which is needed to accommodate pressure points, yet loses no more than 2% of its protective properties.
SIZE:  28″ along spine, Flap length 17"  tapers to 11.5″ depth in rear.
True to all our VERSAFIT SADDLE PADS, they are crafted in the USA.
When I got my young mare and started her under saddle, I was excited about how easy it was to fit my NHS Carry Me to my new horse. But her being an Arab and still pretty slender meant that my medium sized Western Smartpad looked fairly big on her. This new version of the Smartpad was our saving grace. We still have the easy handling and great protection of the Smartpad foundation, while it's slim shape looks good on my horse and isn't in the way of her movements.

Sabine Steiner

Austria