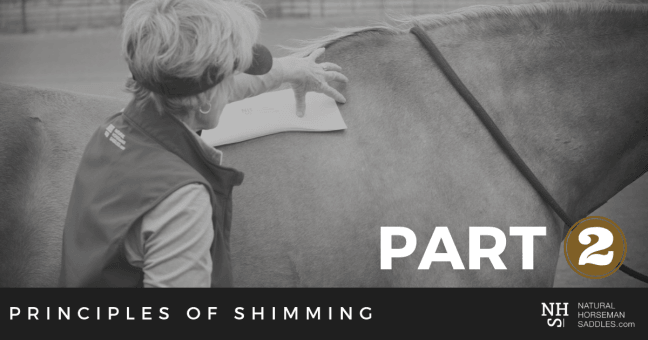 A four-part series… by Letitia Glenn
SHOULDER RANGE OF MOTION…
Principle Number 1
When you have a saddle designed for movement, it has extra comfy-space built into its foundation designed to offer relief from restrictive pressure. It will feel wonderful to your horse if you consider the best possible way to support and balance it. This is how you protect the space your changing horse's body needs while in motion. "Managing the interface" we call it. Understanding a bit about this will enable you to be confident you're keeping excess pressure off the region of your horse where the most action is happening underneath your saddle: the SHOULDERS.
By placing one of our tapered foam shims (on each side of your horse) 'behind' the area that moves the most, the front of the saddle will be LIFTED and SUPPORTED just enough to maintain the much-craved room for the shoulders to bulge underneath it without restriction. These clever pieces of equipment come in several shapes and can be shifted in position if necessary to suit changes in each horse as training continues.
At LAST, you are no longer stuck with a saddle that doesn't fit weeks after you've paid for a professional fitting! Now you can be empowered to adjust to suit. Money saver… BooYa! 
So…How many shims and what particular shims should you use? We've done your research for you and can promise it's not complicated. It all comes down to the horse's shape, conformation and posture, which have basic parameters we can help you recognize.

We'll discuss that in the next articles…

***Also, the position of the saddle, as well as the shims in relation to your horse's body, are key components. Be sure your saddle is not placed too far forward. Our PLACEMENT guide will help.
Stay tuned for PART 3 of this 4 part series…
PRINCIPLE 2 of SHIMMING – 'Balance Point Position Access'
Find out what it means and how it influences your horse's movement and your riding.


Be sure to follow this blog and receive updates direct to your inbox!
If you have any questions in the meantime, be sure to email [email protected] or visit our website www.naturalhorsemansaddles.com