When you invest in a saddle, of course, you want it to "speak" to you and your horse in a functional sense.  This often involves extensive research and decision making.  Just when you think your hard choices are made, you're faced with even more!  Now you have to decide on how it will look! Here are some TOP TIPS on how to design your western saddle, and how to go about it.
GETTING STARTED WITH SADDLE DESIGN
What color, tooling, and other options will you select to design your dream western saddle? 
After all, you want it to compliment your horse…and it would be extra fun to match your personality and sense of style!
Let's run through a few tips on choosing the right design options to please your purpose, your flair, and your eyes.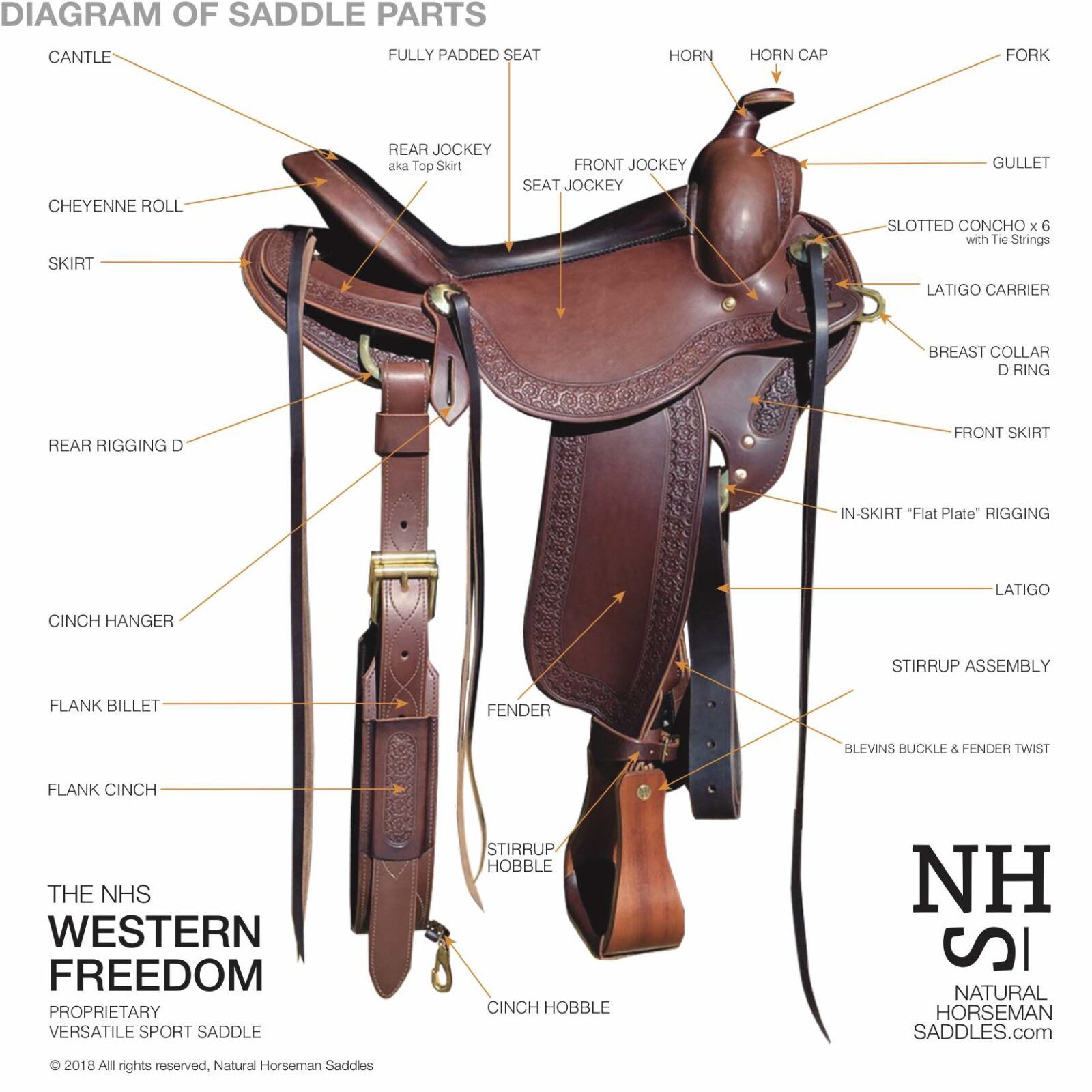 CHOOSING YOUR SADDLE'S BODY/MAIN COLOR
The body of your saddle is the most prominent feature people will notice first.  So choosing your leather color can be aided by addressing a few points :
What color is the tack you already have – Bridles, Breast Collars etc?
What color horse will you be riding predominantly and how will it suit?
Will you prefer smooth or roughout leather?
(we'll explain the difference – keep reading)
How much care and cleaning will you give your saddle ?
What will tone in best with accent colors you love using on your horse?
Are you traditional or more modern in your style?
There are many color choices available for you.
From lighter tones such as Light Oil, all the way through to Black. 
When choosing it pays to remember a few things:
*Saddles darken over time – with UV exposure, oiling, sweat, loving care, etc
*Lighter Saddles show more changes and stains are a little easier to see
*Not all saddle colors you choose will match the sample you see precisely, as each hide can exhibit variations during the dye absorption process. This is due to skin pore size because of hydration and other issues during the course of the individual lives of the animals.
See some examples of our WESTERN FREEDOM Saddle here.
Some Saddle Color Inspiration!
CHOOSING ROUGH OUT OR SMOOTH LEATHER
Smooth leather and Roughout leather vary in texture and color. 
Roughout leather is the underside of the hide.  While it offers extra 'grip', it shows dye colors differently plus grabs dirt and oil easily so will darken irregularly compared to smooth leather.  It pays to ask to see a roughout saddle in your color choice before you decide. 
Also, keep in mind you'll  be choosing to have roughout seat jockeys and fenders, so this will be mixed with smooth leather components.   (See Saddle Parts Diagram for what saddle parts we refer to).
*Antique Brown and Honey Colors are unavailable on Roughout leather*
SEAT LEATHER – SUEDE OR SMOOTH LEATHER
Some LOVE a suede seat (textured but softer and thinner than the smooth saddle seat leather) for the extra grip… Some prefer Smooth (still has a bit of texture but less grippy)  so they have more fluidity and movement as they sit and ride.  This comes down to preference and what job you intend for your saddle.
Barrel Racing saddles most often have deep suede seats to help riders stay firm in those tight turns.
Some Cutters and Reiners prefer smooth seats so they can easily adjust and move with their horse.
Suede has a shorter lifespan than smooth leather, but can always be replaced down the line if you were to 'wear it out'.  Another downside is that it can become shiny as the rougher fibers get worn off and driven into the seat. 
This doesn't happen quickly.  But it happens. 
Most manufacturers won't cover this wear under warranty as it is referred to as "general wear and tear". 
Know your leather and avoid being disappointed!
Some things to think about with your seat leather choices :
Color combinations – A personal preference, however, most riders think  …

Darker saddles look nice with black seat leather/suede seats
Lighter saddles look best with dark brown color selection
Also when it comes to Buck rolls or "Bucking rolls', most people prefer to keep synergy with their seat color.
LEATHER TOOLING
With so many design choices offered tooling can often be the hardest choice to make.
Let's simplify this!
You can have :
Border Tooling – goes around the seat jockey, fenders, front and rear skirts of your saddle.  It is uniform in its look and design and frames the edges of your saddle handsomely.
Spot Tooling – Segmented areas of the saddle can be tooled.  It is most commonly done with a Floral theme or other botanical flairs – i.e. Acorn tooling.  Spot tooling is usually done on the skirts of the saddle, the seat jockeys, the corners of the fenders and top of the saddle horn.  It can even work its way up onto the back of the seat cantle. Spot Tooling can be combined with a 'beadline' tooling around the areas to frame the design.
Spot Tooling with Border – Instead of a simple beadline to frame the floral or botanical accents, a thicker more complicated border pattern can be chosen for a more dramatic effect. It looks stunning on saddles with large surface areas such as our Reiner or Western Dressage models but is gorgeous on the smaller skirts of such saddles as our Letitia Wade, which is a Wade style saddle with the Lady in mind. Combining Spot Tooling with Border and some with basketweave fill pattern can make your leather canvas as ornate as possible.
Black Etching – 'Black etching is hand-painted in the shallows of various tooling patterns. It creates a lovely visual contrast and deepens the dramatic effects of the tooling design.
Fill Patterns – Fill patterns like Basket Weave are for those who want lots of texture and visual fullness to the look of their saddle.  Traditional in appearance, it has been used widely on western saddles for many decades.  It can be combined with other spot tooling and border choices and isn't generally a stand-alone choice
CONCHOS
Well, this is where you can make choices that don't have to last forever. Phew! 
Conchos can be exchanged at any time down the road.  People often change the look of their saddle simply by exchanging their conchos!  It's cost-efficient and there are lots of choices out there.
Here are our top tips to Concho Selection :
Stainless (silver tone) or Brass (golden tone) or Both (mixed metals)?  Choose your conchos to tone in with your choice of other hardware on your saddle: Stainless or Brass
Do you want a pop of color? 
Conchos can often have a dominant metal color, but also can be accented with an enamel color or two. 
Do you want to clean your conchos? 
Brass can 'green' up.  Nothing a rag and some brass cleaner can't resolve.
Slotted or Domed? 

Slotted conchos mean your saddle ties will be fixed on with a 'bleed knot' or 'blood knot'  – They're not 'screwed' to the saddle which means exchanging them is fairly easy.
Domed conchos are affixed with a wood screw into the saddle tree.  Your saddle tie strings will be connected by a piece of hardware known as a 'drop D" secured beneath the concho  .  You will need a concho turner to remove or install domed conchos – but here's an easy way to do it with a simple drill and maxi-pad!
NOW GET TO WORK!
Our Natural Horseman Saddles Team will certainly assist in your choices and help design your dream saddle.  What we can't do for you is DECIDE.  That's YOUR TASK. 
We suggest making sure you're clear on what model saddle you're desiring so you know what options you've got, how many choices you have to make, and what questions to ask.
Each of our saddle web pages will show your choices and if you'd like to see an example of something, be sure to ask!  You can contact our team via email [email protected]
OH!   If you have even more creative flair pumping through your veins and would like something we don't offer on the website, never fear.  We have Signature Saddles for you! This is where you can design anything from the shape and style of your saddle to the color stitching we use.  A one-off personalized tooling design, your private brand or simply a saddle we have never dreamt of before. 
For more on Signature Saddles, be sure to visit our website or blog post that explains it further.
***Be sure to keep an eye out for upcoming articles on other things you might consider when choosing a saddle. Like stirrups choices, model selection and more.