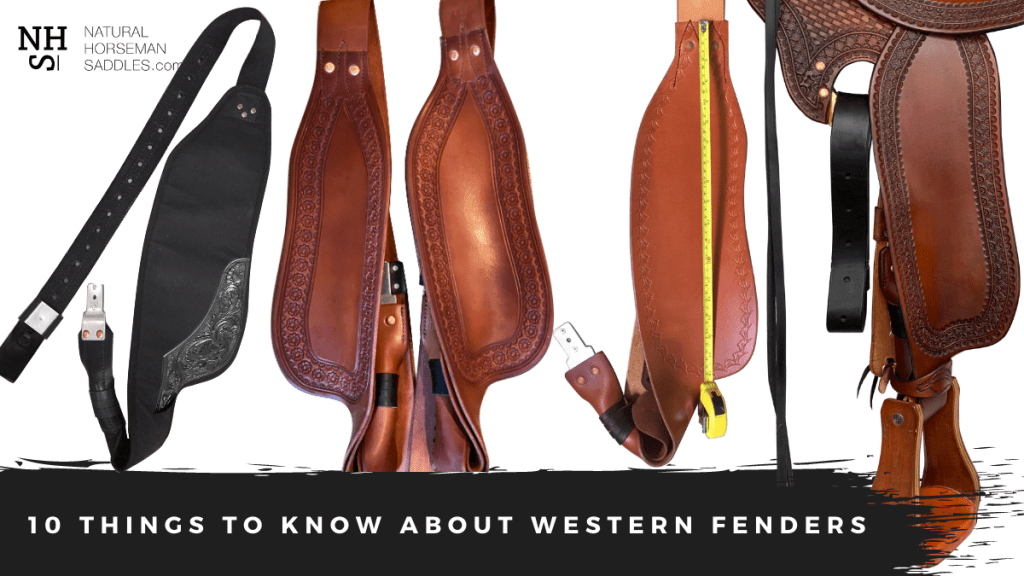 When it comes to western saddles, you need to know a little something about FENDERS. In this post we will cover things like; how to measure your fenders, what size fenders you might need (NHS model specific), how to exchange your fenders (handy video tutorial) and other interesting facts. Here are the 10 things you need to know about Western Fenders.
1. What are Fenders?
The connection between the stirrups and the main body of the saddle is called a FENDER. The Natural Horseman Saddles' Fenders have an easy sliding adjustment mechanism called a 'Blevins Buckle' and a 'twist and wrap' (sometimes called "Texas" twist, "Idaho" twist and other historic regional nick names) to hold the stirrup in position for easy foot access, which keeps your ankle in alignment to avoid fatigue.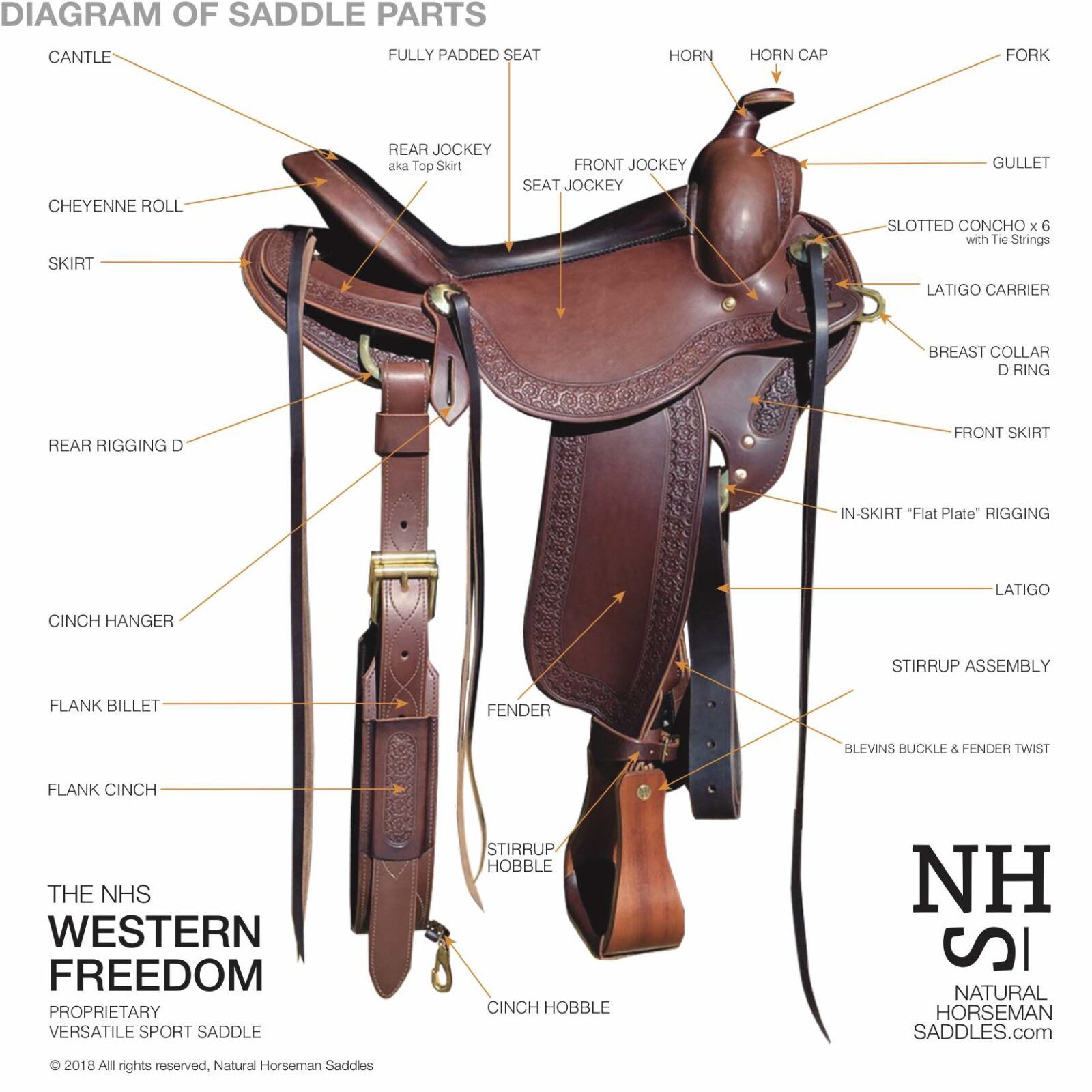 2. What are Fenders made of?
Most Fenders are made of leather, however some saddle makers use synthetic fabric. If you're riding our lightweight western models the Carry Me and Deep Seat Light, they will be made of "wax wear", which is a very sturdy woven cotton impregnated with paraffin or natural beeswax-based wax for weatherproofing.
3. How do Fenders attach to saddles?
A Fender typically has two main parts: the front is the visible shaped piece on which the rider leg rests when riding. The top of that piece is attached to an "adjustment strap" which is threaded over the bars of the saddle tree through a slot and hangs down behind the fender. The adjustment strap has a series of holes punched in a row into which the Blevins buckle pegs fit so the stirrup height can be adjusted up or down to suit the rider's leg length and desired knee angle while riding.
4. Do Fenders need replacing?
Yes! Fenders (particularly the adjustment straps and point of attachment of the strap to the main body of the fender) endure a lot of pressure with rider weight and movement over time. Leather can easily 'wear out' due to this stress and can eventually give way. This isn't something that should happen quickly, but expect it a few years down the road. How much you ride will be a factor along with proper leather care. It's worth checking before you mount!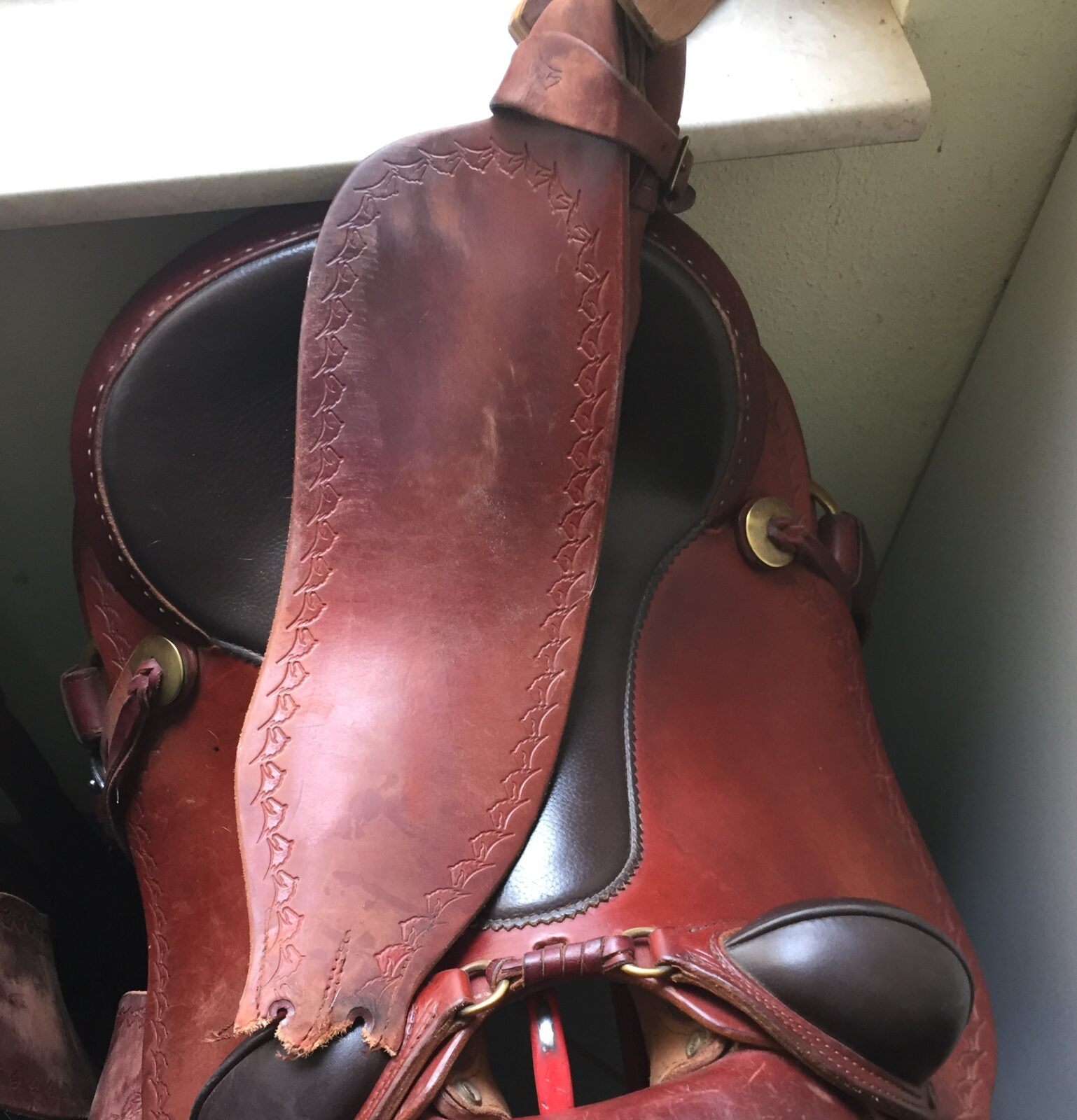 5. How do I measure my fenders?
Natural Horseman Saddles Fenders are crafted in 5 basic lengths to correspond to rider leg inseam measurements. Our basic formula for leg length/fender length match up is listed below. If you're curious about what length the fender is on your saddle, measure the front (main body piece) of the fender. Putting the start of the measuring tape or ruler at the join that links the rear adjustment strap to the front piece of fender leather, to the bottom of the fender, stopping your tape at the widest point (see video below).
Our Natural Horseman Saddle Fenders come in five sizes. Note corresponding suitable rider leg inseam measurements for each fender length.
XSMALL 14 3/8″ = Inseam 24"-27" = (61-58cm)
SMALL 16 3/8" = Inseam 27" to 30" (68-76.5cm)
MEDIUM 18 3/8″ = Inseam 30″ to 33″ (76.5-84cm)
LARGE 20 3/8″ = Inseam 33″ to 36″ (84-91cm)
X-LARGE 22 3/8″ = Inseam greater than 36″ (91cm)
6. Don't know what Fender length is good for you? Check your inseam.
Here's how to measure!
We need your LEG LENGTH from the crotch to floor in your stocking/bare feet (not your jeans or pant leg size, as pants are built longer than leg length). Here is the best way to be accurate: 
Hold a notebook or hard-edged something-of-substance as high as possible between your legs so that the top edge is parallel with the floor.
Calculate the measurement with a tape (a retractable metal one is easiest to use) from the top of the hard edge to the floor.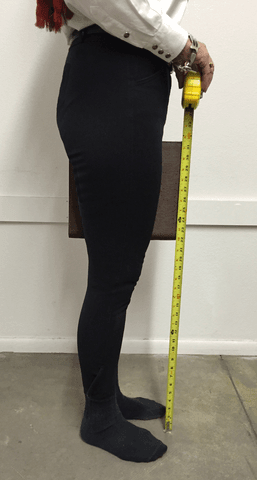 7. Can you order NEW fenders for an older saddle?
You sure can! Simply visit our webpage HERE and to see a description of what is available. When you're ready to order you can contact us via EMAIL with a picture of your saddle (so we can offer advice on color matching).
8. How to exchange your fenders on your western saddle?
Well, this isn't the simplest of tasks, and if anything looks confusing, it might be best left to a local saddle maker to do it for you. It's a quick job if you've done it time and time again.
We have prepared a handy video that runs through all you need to know.
It would also be a useful video if you want to exchange your stirrups!
You will need some tools, however…
A claw hammer, a small flat head screwdriver, and a metal ruler that bends to help guide the fenders through.
9. DO ALL FENDERS FIT ALL SADDLES?
Not all fenders fit all saddles, no. However, you will find other saddles that will allow for our Natural Horseman Saddles Fenders.
First, you need to ensure our fenders will fit. You can do this by looking at the width of the adjustment strap (narrower strip on the backside of the fender) that feeds through the slot in the tree.
You do NOT want to use a fender with an adjustment strap wider than your existing ones. They may not sit comfortably in the slot in your tree.
If you'd like to compare measurements, simply email us with some pictures with a tape measuring key areas and we'd be happy to help.
10. SETTING UP YOUR STIRRUP, ADJUSTMENT STRAP & STIRRUP HOBBLE
When you're setting up your fenders and stirrups, there are a few key things to ensure for the comfort of you and your horse.
Make certain your adjustment strap IS NOT wrapped inside your stirrup hobble (the little strap that buckles around your 'twist' and fender neck. The job of the stirrup hobble is to secure your stirrup to the fender so it doesn't fall off in the case of your Blevins buckle coming apart. If you include the fender adjustment strap in the bundle, it thickens/stiffens the whole assembly so your foot and ankle are not as comfortable…plus could force the adjustment strap in front of your toe, which looks a little silly plus could trap your foot.
If you have a 'twist' in your fenders as NHS does, your stirrup should be facing the correct way (ready for your foot to slip in, which puts the stirrup itself perpendicular to your horse's body). Also, your Blevins Buckle slide on your stirrup adjustment strap (AND the adjustment strap itself) should be flat against your horse's body NOT digging its edge into your horse.
We will create a blog post on this in the future so be sure to keep an eye out but in the interim, this 'In the Field' video may just help!
We hope this helped you and your knowledge of fenders… If you have any other questions, we'd love to hear them!
Visit the contact us page of our website, or email [email protected]